What a great way to end the season!
This past week we've had summer like conditions with the temps reaching up to 28C one day.
The last 2 days will be a little bit of a shock to the system as the weather people are calling for a high of only 4C on October 8th & 9th.
We want to thank Jim & Kevin for sending us a couple of photos of some of their catches this week. (September 30th to October 7, 2023)
That's one huge smallmouth bass! Makes the following Walleye look small:)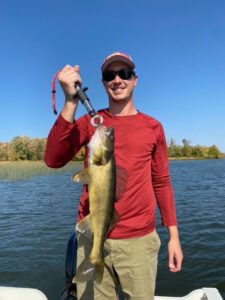 We wish all of our guests a Happy Thanksgiving and we hope to see you in 2024.