Lookout Cottage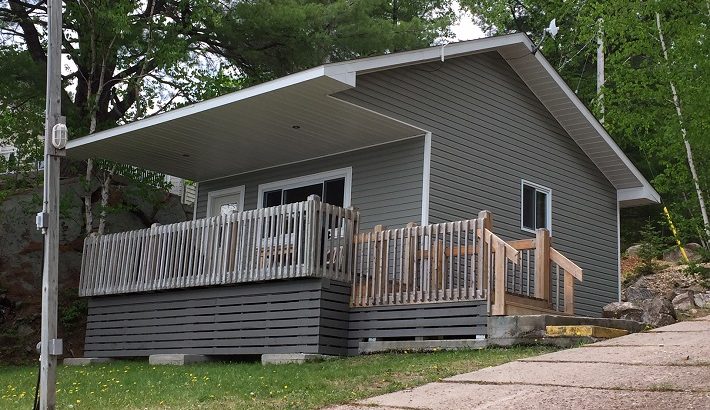 Lookout Cottage is our only one bedroom cottage.
Great news. We've upgraded our wireless Internet service and you can now get Internet access throughout the resort.
Located on the waterfront, in a secluded cove surrounded by granite; this cottage offers tonnes of privacy and some of the most picturesque views of Lake Nipissing. Lookout Cottage comes with a queen size bed. We have an electric fireplace in case of cool evenings and an air-conditioner for those hot summer days. All of our cottages have all of the amenities of home: 4 piece bathroom, 32″ flat screen satellite TV, propane BBQ, fridge with full freezer, microwave, stove, electric toaster, and a coffee maker (filters supplied). Each cottage has a complete set of of pots/pans and cooking utensils as well as matching dishes, glasses and cutlery. For our guests staying in Lookout Cottage they enjoy having their dock just steps from their front porch. The 10′ overhang over the front deck allows our guests to enjoy sitting outdoors no matter the weather.
All cottages are smoke free and vape free. We provide ashtrays on the front deck for those who smoke. For those who vape we ask you do so outdoors as it leaves a film over surfaces.
This is one of our most sought after cottages.
Our water comes from a 300′ drilled well which is tested monthly and is safe to drink.
Maximum occupancy: 2
Dates open: 3rd Saturday in May to Thanksgiving Monday
For the pleasure of all our guests we do not allow music to be heard outside of your cottage.
Excessive noise is not tolerated at any time.
Just a reminder that we are a PET FREE RESORT!
Interested in booking a Cottage? Visit our Rates page or head to our Rental Inquiry Form.
Also, check out our 2 Bedroom or 3 & 4 Bedroom Cottages.