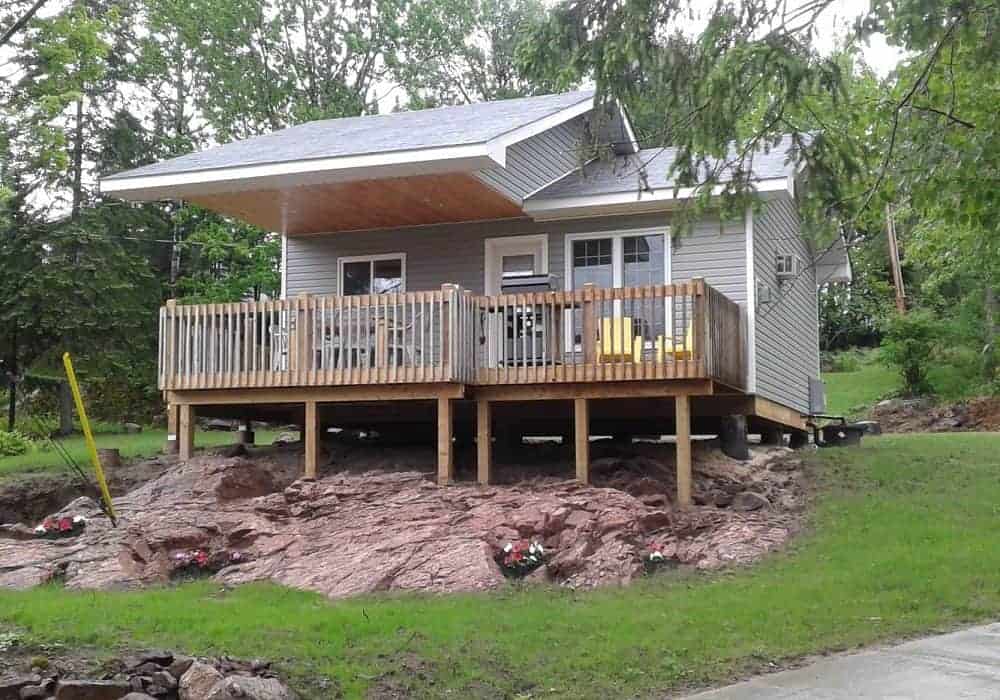 We are open from the 3rd Saturday in May to October 15th.
Come enjoy our northern hospitality!
Glen Echo Cottages offers quality accommodations on Lake Nipissing. We offer spacious one, two, three or four bedroom housekeeping cottages. Of our eleven cottages four of them are Executive Cottages. All Executive Cottages come with a dishwasher and have a 10′ overhang over the front deck. Our guests can sit out on their large front porch, no matter the weather, and enjoy the beautiful views of Lake Nipissing.
The quality of our cottages are second to none! Check out the "visual tour" of each cottage. All cottages come equipped with a fireplace to keep you warm on those chilly Spring and Fall evenings and an air conditioner, which is an absolute necessity with the extreme heat we've been experiencing the last several years. Our cottages have all the amenities of home: wireless internet access, 32″ flat screen satellite TV, propane BBQ, fridge with full freezer, microwave, stove, electric toaster and a coffee maker (filters supplied). Each cottage has a complete set of pots/pans and cooking utensils as well as matching dishes, glasses and cutlery.
Sheets and pillows are supplied but we do not furnish blankets, bath towels, beach towels, dish towels, or toiletries.
We truly appreciate all of our Canadian and International guests who make their yearly getaway to Glen Echo Cottages. Some of our groups have been visiting Glen Echo for decades and it's great hearing their stories from years past.
Our guests know that Glen Echo offers one of the most sheltered locations on Lake Nipissing. We are uniquely located in the channel to Callander Bay, directly across from Smith Island. This offers great protection from the elements. When the Lake is a little choppy our guests can enjoy the calm and tranquility of the channel or Callander Bay.
We'd like to invite you to come spend some time with us @ Glen Echo where you'll be made to feel right at home. We'll do all we can to ensure you have a memorable, fun filled fishing or family vacation.
***JUST A REMINDER – WE ARE A PET FREE RESORT***
For your convenience we offer:
wireless internet access
Fish cleaning building
Bait & tackle
Gas & oil
Boat ramp
Laundromat facilities
Store – fishing bait, lures, t-shirts, etc.
Only the best for our guests!
At Glen Echo Cottages we are continually upgrading to provide our guests with the best cottages and boats on Lake Nipissing. Scott has worked endlessly on upgrading our boats. We offer our guests the best fleet of boats on Lake Nipissing with 21 boats to choose from. For those bringing their own boats we have a convenient boat launch and plenty of docking space as we have over 350′ of floating docks. No fear of shallow water.
For our summer guests we are always adding to the summer toys. We have kayaks, canoe, stand up paddle board, swim raft, two water trampolines one with a slide and a 12′ Rave Saturn rocker.
Our goal is to make Glen Echo Cottages the best summer getaway for families looking for quality at an affordable price.