Removal of Water trampolines
It's that time of the year already! Scott was out this afternoon removing both water trampolines. Means the end of summer and the start of our Fall season.
As it's supposed to rain all day tomorrow he decided to take them out this afternoon so he could get them dried thoroughly and put away.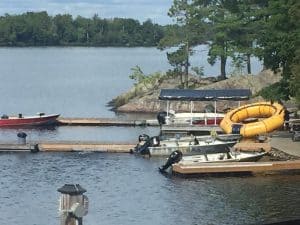 It's a beautiful sunny day today with a high of 20C. Perfect final day for our summer guests! We'd like to thank all of our Summer guests and hope you all had a great stay!